Executive Coaching Systems

What Is an Executive Coaching System?
It is a comprehensive approach to coaching that balances individual executive development with developing organizational capability in the context of business strategy.
The Business Need: A Fast-track Way to Make a Difference Quickly
More and more businesses are rededicating themselves to leadership succession management and leadership development to fill their need for qualified leaders.

There is an increasing emphasis on assessing individual competence and performance and tailoring development plans to meet the specific growth needs of individuals for their current and future potential assignments.

A coaching system is one very powerful, fast-track way to focus on individual development needs and make a measurable difference quickly.
Key Features of a Fast-track Coaching System
Focused on developing individual capability to achieve defined business goals

Linked to succession management, performance management, career management, talent reviews, 360º feedback, and other assessment systems

Defined coaching process and coaching support process

Trained internal and external coaches at several levels

Coaching engagement linked to specific goals that are agreed to by Coachee and Sponsor

Defined responsibilities for the Manager, Sponsor, and Mentor (if any) of the Coachee

Clearly defined communications flow, while preserving confidences, between Coach, Coachee, and Sponsor throughout the process
Benefits: Leadership Capabilities Are Powerful Determiners of Business Success
Rapid change with measurable results

Economical use of the Coachees' time with little performance interruption

Customized to organizational and individual needs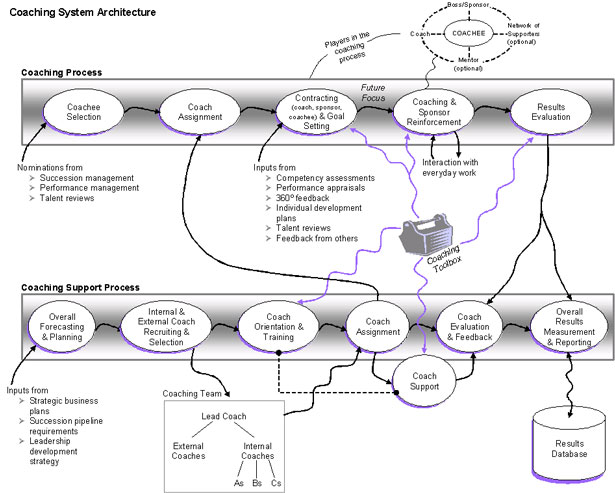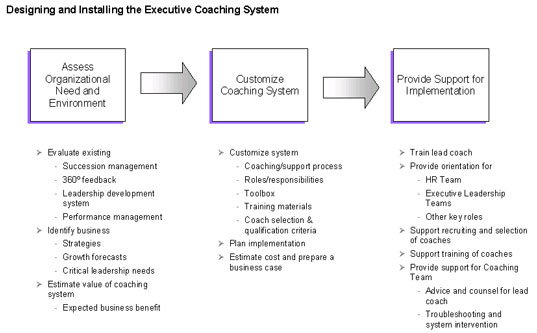 For your convenience, we have provided a PDF version (viewable by Adobe Acrobat Reader) of the Executive Coaching Systems brochure for you to download and print out to read at your leisure—just click here.
If you do not have a copy of Adobe Acrobat Reader, click here to take you to Adobe's Web site to download the program for free.